http://twitter.com/#!/kolebee/status/290284596757667840
How cool! Seattle breaks the Guinness World Record for the largest snowball fight as almost 6,000 participate.
World record snowball fight success! Thanks @snowday for an awesome event! #SeattleSnowDay #Igers_Seattle #wearejuxt twitter.com/yoMichaela/sta…
— Michaela Rose (@yoMichaela) January 13, 2013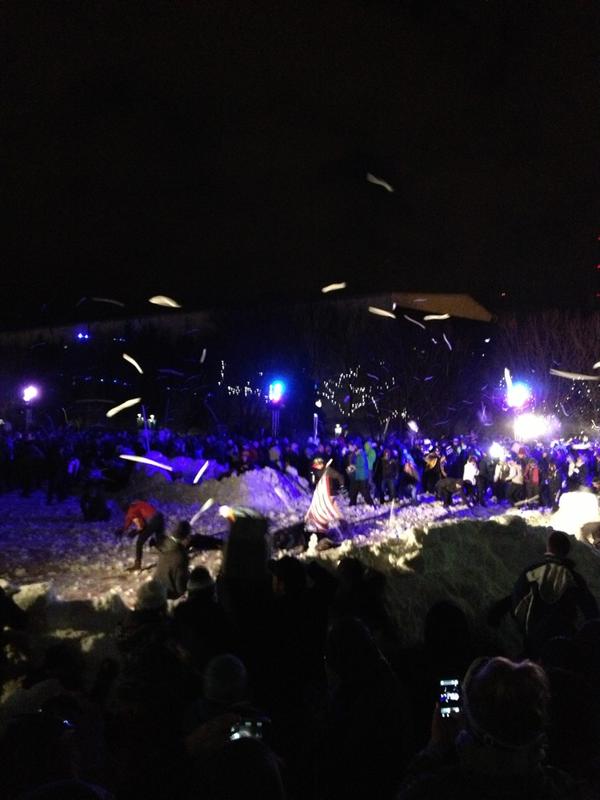 aw a massive snowball fight in Seattle, that sounds super super fun.
— Iman(@Imaanla7) January 13, 2013
Love this MT @joshtrujillo: Congrats, Seattle, world record holder, largest snowball fight! bit.ly/WQ13gH twitpic.com/buqjqx
— Jim Brunner (@Jim_Brunner) January 13, 2013
5000 people showed up for largest snowball fight…world's record!! Shipped in the snow! Way to go SEATTLE!!
— KatSmith (@Katastrophy1951) January 13, 2013
World's Largest Snowball Fight in Seattle, Guinness-Certified. BOOM! PROPS! @snowday #SeattleSnowDay #wearejuxt twitter.com/bradpuet/statu…
— bp (@bradpuet) January 13, 2013
I want to be part of the worlds largest snowball fight in Seattle!!
— Megan Swartz (@MeganSwartz10) January 13, 2013
So awesome! RT @almeerama: Just finished the world's largest snowball fight! Right on, Seattle! #snowballfight #seattle twitter.com/almeerama/stat…
— Megan Hill (@MeganHillWriter) January 13, 2013
UH they just showed a clip of the Seattle snowball fight and just looks like a bunch of people standing around throwing snowballs in the air
— Maya Manzano (@mayamanzzz) January 13, 2013
Here's video:
Read more: http://twitchy.com/2013/01/13/awesome-nearly-6000-seattle-residents-break-record-for-largest-snowball-fight/