http://twitter.com/#!/jigolden/status/278510294702096385
Since Twitchy launched in March, we've been documenting daily evidence of conservative Twitter domination and hilarious liberal hashtag failures. Whether it's hijacking progressive hashtags or launching their own, conservatives rule the political Twitterverse.
Today, Twitter confirmed what Twitchy has been reporting. The #tcot, or "top conservatives on Twitter" hashtag, tops the list of political hashtags for 2012.
#tcot was most used political hashtag on twitter this year, followed by #teaparty & #gop 2012.twitter.com/en/trends.html
— Henry D'Andrea (@TheHenry) December 11, 2012
And it's far from the only top conservative trend. The next four spots went to #teaparty, #gop, #romney and Mitt Romney.
It is amazing how frequently #tcot trends on Twitter. Nothing like it from the left. twitter.com/pgreenberger/s…
— Peter Greenberger (@pgreenberger) December 11, 2012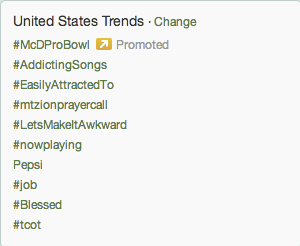 Congrats to all the happy warriors on Twitter who delighted in crushing narratives, mocking the steady supply of mock-worthy liberal nonsense and tweeting truth to power! It's not the only battleground by far, but it's one we won't cede.
Here's to another year of conservatives dominating the online conversation #tcot #gop 2012.twitter.com/en/trends.html
— Nick Marcelli (@NickMarcelli) December 11, 2012
Now let's translate that into domination at the polls!
Read more: http://twitchy.com/2012/12/11/confirmed-conservatives-crushed-liberals-on-twitter-in-2012/