http://twitter.com/#!/cwcook1000/status/254159218028994560
BREAKING: WOW! Did Romney bring cheat notes into the debate? – Democratic Underground http://t.co/7U315oIv // #YESHEDID!
— liberalease (@liberalease) October 4, 2012
Well, it was inevitable. Lefties have spent the last two days twisting themselves in intellectual knots trying to explain their Dear Leader's miserable debate performance. Their excuses have run the gamut, from high altitude to women to loud noises to being confronted with the truth. Today, though, the big buzz was over a mysterious white material clutched by Romney at the debate.
Mitt The Sleazy Cheat–His sneaky podium-approach-notes-smuggling in 8 frames (click pic to enlarge): pic.twitter.com/JVMarxiK
— Deborah N. Tornello (@litbrit) October 5, 2012
The speculation began yesterday at Democratic Underground. Some eagle-eyed genius noticed that when Romney walked on stage and up to the podium, he removed something white from his pocket. Lefty logic dictates that it could only have been one thing: a cheat sheet. That's right, ladies and gentlemen: Romney didn't win the debate on his merits; he won it because of a forbidden piece of paper. You see, candidates are not allowed to bring notes into debates.
Here's the damning video, complete with a slow-motion sequence:
Did you see it? Are you scandalized? The liberal blogosphere certainly was.
The Daily Kos couldn't wait to get a piece of the conspiracy action:
https://twitter.com/Pajoe/status/254196131096043521
The author of that exposé thought the whole thing looked "hinky."
The Daily Beast followed suit:
You Be the Judge: Did Mitt Cheat? http://t.co/KnKOmfmD #cheatsheet
— The Daily Beast (@thedailybeast) October 5, 2012
Romney spokeswoman says it was a handkerchief, Internet says secret #debates notes! You be the judge. http://t.co/4YcVXgh5 #hankygate
— The Daily Beast (@thedailybeast) October 5, 2012
Wonkette hopped aboard as well:
Oh Look Here Is Cheating Cheater Mitt Romney Pulling Illegal Notes Out At The Debate (Video) http://t.co/dYnW6Esf
— Wonkette (@Wonkette) October 5, 2012
Not to mention a heap of foaming-at-the-mouth liberal Twitterers:
Romney camera using "Cheat Sheet"…between 00:07 – 00:11…puts hand in pocket, pulls out cheat sheet http://t.co/4WqKfWgm
— debdlund (@debdlund) October 5, 2012
Mitt Romney CHEATED at debate! http://t.co/R2YnUXuN http://t.co/yf0GNluD https://t.co/4aNcsDMQ http://t.co/TUN0pkKz @ThomasARoberts @Maddow
— ProChoiceGrandma (@ProChoiceGramma) October 5, 2012
Romney cheated in the debate by bringing a cheat sheet with him. That's expressly forbidden in the rules. http://t.co/GQaIdTvg (via @ddayen)
— Erik Love (@ErikLove) October 5, 2012
@WisdomSeeker18 @youtube Yes #Romney did cheat. I saw the video, saw him pull notes out of pocket & put on podium. #WhatCharacter
— Roz Alexander (@roz233) October 5, 2012
OH WORD?! Possible evidence of Mitt Romney cheating during the debate… http://t.co/vdZTQRMZ
— Global Grind (@GlobalGrind) October 5, 2012
https://twitter.com/missinJ_07/status/254352072701517824
How many ways are there to cheat at something? #romney knows and endorses them all #unfitmitt #cheatgate #bullshitmitt #romenycheatsheet
— Free (R) women (@KristinP22) October 5, 2012
Sadly, as it turned out, the conspiratorial liberals were wrong. Mitt Romney's "cheat sheet" was, in reality, a handkerchief. Foiled again!
Obviously Romney's handkerchief had his zingers embroidered into it. http://t.co/S1CZJ5K5
— Andrew Kaczynski (@BuzzFeedAndrew) October 5, 2012
Romney "Cheat Sheet" Was A Handkerchief, Campaign Says http://t.co/fGLbPvjq
— Ben Smith (@BuzzFeedBen) October 5, 2012
It is now suggested that (unlike Bush with his radio) Romney may NOT have cheated. "Notes" may have been a handkerchief http://t.co/GkEUdl33
— Richard Dawkins (@RichardDawkins) October 5, 2012
Wonkette walked back its original claim — and qualified the walk-back, natch:
So we are now willing to stipulate that it is possible Mitt Romney is not a cheating cheater, in this one instance.
But he totally still could be.
Even the "real reporters" at The Week grudgingly agreed that the suspicious white article was most likely a handkerchief.
And at least a couple of liberals noted that the conspiracy was ridiculous:
obama lost the debate. romney didnt cheat. and even if he did obama lost. the unemployment change is real. nobody cooked the books.
— Oliver Willis (@owillis) October 5, 2012
Obama supporters let's not reach on the cheat sheet thing… Let's continue the path of fact checking Romney's flip flopping
— Mr. Marchand (@MitchMarchand) October 5, 2012
So, Obama's loss was still Romney's fault, but not because Romney cheated. Oh well.
The whole thing left conservatives facepalming:
I love it when the left piles on and calls us "conspiracy theorists." They are the undisputed KINGS of ridiculous theories.
— Ben Howe (@BenHowe) October 5, 2012
@BenHowe The latest kook theory….Romney cheated at the debate! Just like Bush did when he wore a wire at the debate in 04!
— Heather (@hmfearny) October 5, 2012
Let me get this straight: Obama looks at his beltbuckle all night and Romney is the one with the cheat sheet. Realy people? #headscratcher
— Tara Noffsinger (@tlnoff) October 5, 2012
So liberals are saying Romney used a cheat sheet against Obama, what's that say about Obama if a single sheet of paper can derail him
— Kyle (@kdro16) October 5, 2012
Doesn't say much.
Conservative blogger Moe Lane revealed what a cheat-kerchief might look like, if Romney had actually had one:
@JohnEkdahl I have the cheat sheet! http://t.co/OJN3NLHe
— Moe Lane (@moelane) October 5, 2012
That's much more organized than what people are speculating Obama's debate night notepad looked like:
Love love LOVE THIS.. pic.twitter.com/kvFPlTd1
— Elisha (@Planet_Rawr) October 5, 2012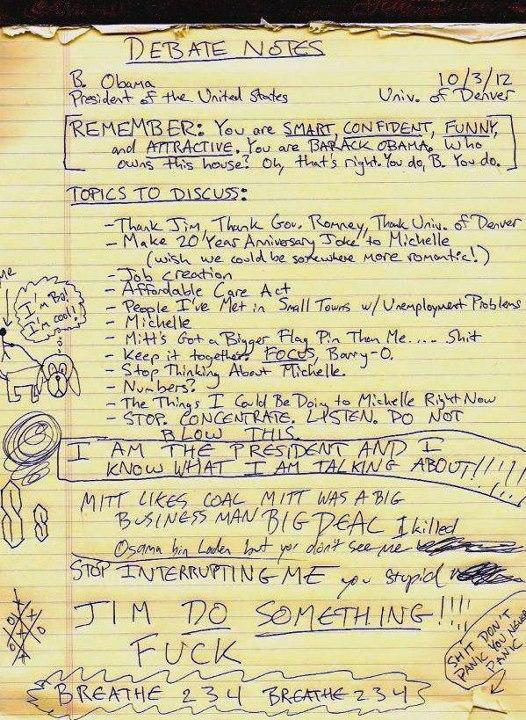 Heh.
I really like how Romney cleverly wiped his nose with that cheat sheet to cover up his tracks. http://t.co/K2zxOhiW
— David Freddoso (@freddoso) October 5, 2012
One Twitterer pointed out how the Democrats could potentially learn from this experience:
For the VP debate, Ryan should spot Biden at least 10 handkerchiefs, just to make it fair.
— Charly J. (@chuck_dizzle) October 5, 2012
That's a win, right there.
Read more: http://twitchy.com/2012/10/05/hankygate-lefty-media-twitterers-obsess-over-romney-cheat-sheet-conspiracy/