http://twitter.com/#!/GreggDoyelCBS/status/291659726939385856
https://twitter.com/ProFootballTalk/status/291657409326350338
Well, yes, that's pretty much it. Deadspin.com has the (much longer but fascinating) account, but in short, University of Notre Dame linebacker Manti Te'o's girlfriend, Lennay Kekua, didn't die tragically at 22 because she was never born in the first place. As writers Timothy Burke and Jack Dickey report:
Outside of a few Twitter and Instagram accounts, there's no online evidence that Lennay Kekua ever existed.
The photographs identified as Kekua — in online tributes and on TV news reports — are pictures from the social-media accounts of a 22-year-old California woman who is not named Lennay Kekua. She is not a Stanford graduate; she has not been in a severe car accident; and she does not have leukemia. And she has never met Manti Te'o.
That so many people were touched by the inspirational story of triumph over tragic loss makes the revelation of the hoax even that much more shocking. Te'o did indeed lose his grandmother last September, but the death of his beloved "Lennay Kekua" of cancer months after a serious car accident was so sad it was reported by ESPN, Sports Illustrated and other media outlets, accompanied by a photo snagged from a stranger's Facebook account.
https://twitter.com/shawn_hunwick/status/291667236203151360
It is real life. Once the shock wore off, though, the idea of someone creating a pretend girlfriend on the Internet didn't seem all that far-fetched. Pathetic, but plausible.
https://twitter.com/CLoudyDIREwolf/status/291667543498825728
https://twitter.com/jstrevino/status/291667448640438272
https://twitter.com/DanFosterNRO/status/291661410772066304
https://twitter.com/andylevy/status/291661219310481408
https://twitter.com/HollaBucks/status/291667029394591744
https://twitter.com/sportspickle/status/291672643613126656
https://twitter.com/SortaBad/status/291667102807519233
It almost sounds like an "X Files" episode, and some wonder if the tragic story of Lennay Kekua had such legs because people wanted to believe.
https://twitter.com/VinnieSchiavi/status/291659945584259072
https://twitter.com/BASportsGuy/status/291667173401821184
https://twitter.com/joegaeta/status/291664030848929792
https://twitter.com/abumuqawama/status/291671148339539968
https://twitter.com/nicole_hong/status/291665823028871170
Notre Dame's spokesperson is having a busy day, too. The school's Dennis Brown issued a statement on Facebook claiming that Te'o himself was the victim of a hoax.
On Dec. 26, Notre Dame coaches were informed by Manti Te'o and his parents that Manti had been the victim of what appears to be a hoax in which someone using the fictitious name Lennay Kekua apparently ingratiated herself with Manti and then conspired with others to lead him to believe she had tragically died of leukemia. The University immediately initiated an investigation to assist Manti and his family in discovering the motive for and nature of this hoax. While the proper authorities will continue to investigate this troubling matter, this appears to be, at a minimum, a sad and very cruel deception to entertain its perpetrators.
Sports Illustrated writer Pete Thamel is asking the questions that have everyone scratching their heads.
https://twitter.com/SIPeteThamel/status/291669951339716608
https://twitter.com/SIPeteThamel/status/291670275920109568
https://twitter.com/SIPeteThamel/status/291670844386705408
Um, what?
https://twitter.com/JulieDiCaro/status/291672570233769984
https://twitter.com/CaptTouchback/status/291671608223989761
https://twitter.com/cvmikesisak/status/291671157491523584
https://twitter.com/andylevy/status/291673233147711488
https://twitter.com/CleveNole/status/291672747602505728
* * *
Update: The plot thickens — how could it not? Deadspin posted its story just over an hour ago. Notre Dame responded that coaches were approached about the hoax Dec. 26. But was someone on to the story as early as Dec. 3?
https://twitter.com/ThePantau/status/291673698547687425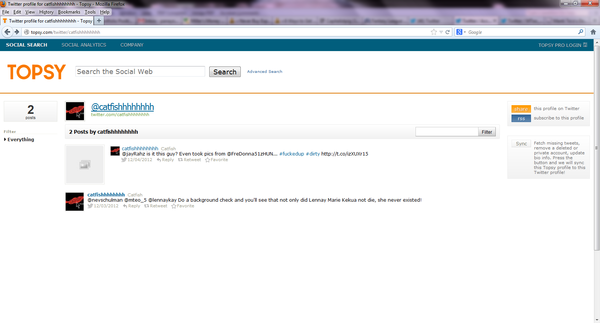 That's certainly suspicious. Two tweets from a user named "catfishhhhhhhh"?
https://twitter.com/EWErickson/status/291673393718231041
You remember that movie, Erick. Universal Pictures said it was "a riveting story of love, deception and grace within a labyrinth of online intrigue."
https://twitter.com/EWErickson/status/291673884799946753
* * *
Update:
Te'o has issued a statement, calling himself the victim of a sick joke.
https://twitter.com/Mark_Schlabach/status/291687767581274112
This is incredibly embarrassing to talk about, but over an extended period of time, I developed an emotional relationship with a woman I met online. We maintained what I thought to be an authentic relationship by communicating frequently online and on the phone, and I grew to care deeply about her.
To realize that I was the victim of what was apparently someone's sick joke and constant lies was, and is, painful and humiliating.
* * *
Update:
Who knew that Lennay Kekua didn't exist, and when did they know it? The Big Lead is reporting that ESPN has been sitting on the story for 10 days.
https://twitter.com/TheBigLead/status/291689226775441408
https://twitter.com/lvdjgarcia/status/291693357787402240
Hmm. Back in September, just days after Kekua's "death," Te'o asked her (via tweet) to say hello to other loved ones in the afterlife.
https://twitter.com/MTeo_5/status/246020457298550784
https://twitter.com/MTeo_5/status/246114619989573634
Read more: http://twitchy.com/2013/01/16/notre-dames-manti-teo-takes-composite-girlfriend-concept-to-new-level-with-tragic-lost-love-who-didnt-exist-university-today-says-he-was-duped/