http://twitter.com/#!/toddstarnes/status/265833709461200896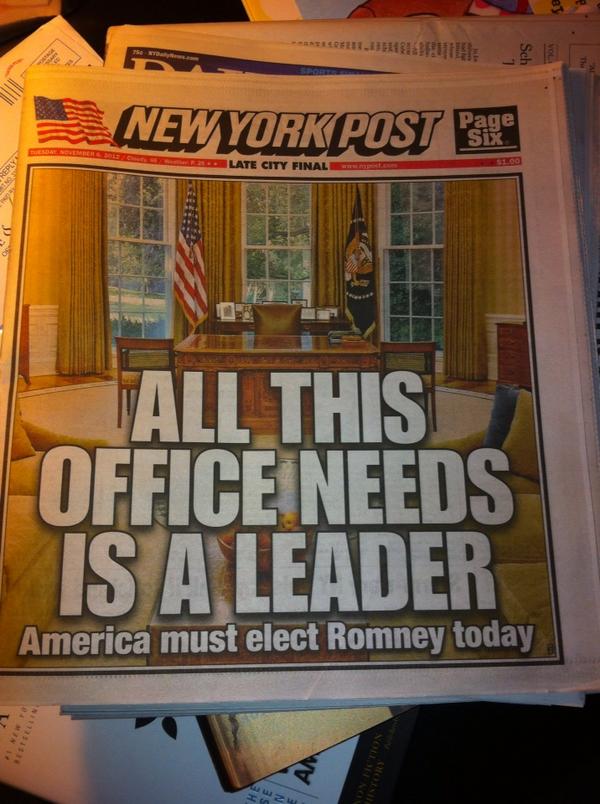 All This Office Needs is a Leader… New York Post cover for Tuesday November 6, 2012 tmblr.co/ZgNtOvWjqC7A
— New York Post (@NewYorkPost) November 6, 2012
Twitter users are loving it.
Love the Empty Chair cover on @newyorkpost today ==> nypost.com
— Michelle Malkin (@michellemalkin) November 6, 2012
Cover of NY Post today – This tells you everything you need to know about what you need to do – VOTE #MittRomney via.me/-6p46wm4
— Wayne Dupree (@NewsNinja2012) November 6, 2012
Thank you Post! RT @tracyleebowling: Thank you NY Post. : Cover of the New York Post today.twitter.com/BrandonPosner/…" #tcot
— Laura R. Charron (@ConchoQueen) November 6, 2012
NY Post front page today MUST SEEnewseum.org/todaysfrontpag…
— bruce lemley (@nogolfonsunday) November 6, 2012
NY Post Headline on Election Day: Vote @mittromney! theyoungcons.com/video-blog/201… via @youngcons blog #tcot #romneyryan2012
— Gabriella Hoffman (@Gabby_Hoffman) November 6, 2012
Make it happen. That chair needs to be filled: By Mitt Romney.
Read more: http://twitchy.com/2012/11/06/ny-post-front-page-sums-up-election-with-one-empty-chair-photo-all-this-office-needs-is-a-leader/