http://twitter.com/#!/AjntB2Sli/status/275345044154773504
Pop singer Alanis Morissette arrived in Israel today for a concert at Tel Aviv's Nokia Theater; she last performed there in 2000.
Alanis @morissette at the Western Wall today, ahead of her concert in #TelAviv tomorrow. Welcome to #Israel Alanis! twitter.com/Ostrov_A/statu…
— Arsen Ostrovsky (@Ostrov_A) December 2, 2012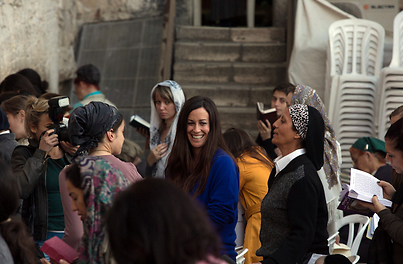 The usual voices of intolerance are protesting the Grammy Award-winning songwriter's visit.
Alanis Morissette, the Palestinian picket line is right in front of you, please don't cross it. Don't play apartheid Israel -BDS
— DPAI (@DPAI1) December 2, 2012
Alanis Morissette and her young child have had their lives threatened by anti-Israel "peace" activists. Now, THAT is ironic.
— Roofer On Fire (@roofer_on_fire) December 2, 2012
Alanis @morissette is playing Israel tonight…Please encourage her to cancel. #AlanisMorissette #BoycottIsrael #BDS #gaza
— …….. …… (@jennnsolo) December 2, 2012
Disappointed to hear Alanis @morissette is endorsing apartheid and playing Israel. #BDS
— Omar Robert Hamilton (@RiverDryFilm) December 2, 2012
[email protected]morissette #IsraelArmy shoots a #ShadiSalamehMasharqa (22). Who'll b shot when yr on stage in #Israel? #BoycottIsrael bit.ly/UAgXin
— Tali (@TaliShapiro) December 2, 2012
As Morissette defies the threats and boycotts, Israeli fans are showing their appreciation:
Alanis @morissette is coming 2 preform in #Israel. Please support her making a stand for democracy and peace. RT twitpic.com/bico4g
— StandWithUs Israel (@standwithusintl) December 2, 2012
THANK YOU #AlanisMorissette for saying YES to performing in #Israel & standing FOR #democracy #SingerUnderFire
— cw (@peacexpieces) December 2, 2012
@morissette Alanis, thank you for coming in Israel! :)We love you Bless your soul and keep going.
— winthannah (@winthannah) December 2, 2012
Stay Strong Alanis! Thank you for supporting Israel the only democracy in the middle east. You Rock!!
— Maj estic (@MtlMajestic) December 2, 2012
If only more entertainers had the courage to stand for Israel without apology or retreat.
Thank you, Alanis.
Related:
Kim Kardashian tweets support for Israel; backtracks after haters hate; Update: Death wishes pour in; Update: Tweet has been deleted; Update: Kardashian apologizes
Palestinian activists turn on Red Hot Chili Peppers
What happened when Katy Perry tweeted "Pray for Israel"
Read more: http://twitchy.com/2012/12/02/singer-alanis-morissette-defies-boycott-threats-over-israel-concert/